Bau International Istanbul jazz certificate programe faculty will be selected from the current roster of Bahçeşehir University Jazz Academy located in Istanbul and also host visiting scholars from Europe, Turkey and USA to hold masterclasses.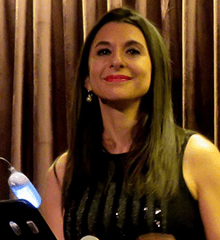 Yeşim Pekiner
Vocal
BAU Jazz Director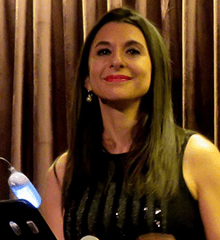 Yeşim Pekiner
A graduate of Boğaziçi University undergraduate and masters degree in political science, Pekiner started her studies on music and classical singing during high school and university years under Prof.Dr. Yıldız Dağdelen. In the following years she took part in "Boğaziçi University Classical Music Choir" and "Ladies and Gentlemen Musical Choir" as soloist and also as choir member. Yeşim started singing jazz and studied with leading vocal masters in Turkey such as Sibel Köse and Randy Esen. She participated in workshops held by Sheila Jordan, Barry Harris, Amy London, Judy Niemack, Kevin Mahogany and Allan Harris. Recently she got 3 years certificates from Barry Harris Masterclasses in Rome and New School Summer Jazz program. She's been an active performer in the recent years, being on the stages of best venues of Istanbul. The band has a repertoire of songs ranging from jazz standards to Brazilian music, from funk to French music. Yesim's colorful and lively voice extends from lower to higher tunes expressing her "joie de vivre" in swing, cha cha and samba as well as softness and romance in ballad and bossa songs. As one of the founding members of Bahçeşehir University jazz programs, Yeşim has been directing Bahçeşehir University Jazz Academy masters in jazz performance and composition recently opened under Bahçeşehir University Jazz Academy in collaboration with audio engineering masters program. She gave the Jazz Academy opening concert in Hollywood together with Baki Duyarlar and leading musicians from Los Angeles as the guest of Turkish Consulate General in Los Angeles. She has also been giving courses in vocal technique and jazz repertoire within historical style analysis. Yeşim Pekiner has been awarded Leader Woman Award in Arts by Turkish University Women Foundation for her contributions to jazz education in Turkey.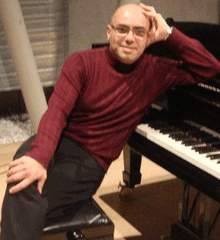 Alper Maral
Contemporary Composition, World Music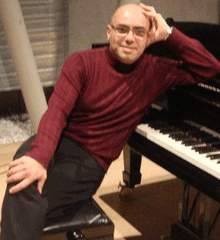 Alper Maral
Alper Maral is a composer and musicologist focusing rather on literal and political connotations in music. He has teaching and administrative posts in several universities; either as a composer, performer or lecturer, he contributed numerous international events—festivals, conferences, etc., founded, co-founded and directed academic or artistic associations, including YTU Electronic Music Festival, Mediterranean Contemporary Music Days and Asian Composers' Festival; got international commissions, prizes and residences. He is a composer mainly for stage and screen, focusing on rather smaller ensembles and electroacoustic environments. His music is published by AK Müzik, Müzik Hayvanı, Pan Yayıncılık, and WERGO labels, among others. Besides numerous scholarly publications particularly in social science, he has executive posts in some important international institutions: He was a member of ISCM executive committee, co-founder and vice-president of New Music Cooperative, delegate for ISCM and IAMIC Turkey, general secretary for Cultural Studies Foundation, a.o.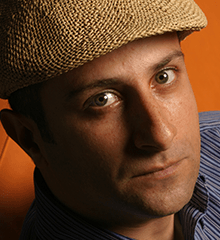 Baki Duyarlar
Piano, Jazz Composition and Arrangement, Ensemble, Jazz Theory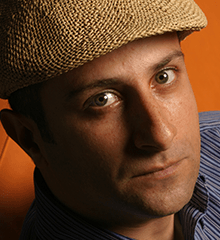 Baki Duyarlar
Baki Duyarlar, was born in 1967, Istanbul. After elementary school, he was enrolled as a fulltime student in Istanbul State Conservatory, Cello Department. He was the student of both Ahmet Saygun and Ilhan Usmanbaş in Mimar Sinan State Conservatory, Composition Department. In 1988, he went to Holland in the aim to study jazz music academically which was his passion since his early childhood and accepted to the Jazz Piano Departmet of Rotterdam State Conservatory. After graduating from Tilburg State Conservatory, Jazz Piano Department in 1993; for 5 years he worked as a lecturer in the music schools of Amsterdam, Rotterdam, The Hague. In 1997, he returned his home country Turkey and since than he participated in many international music projects and continued attending to leading jazz festivals and concerts organized by such countries as United States, Germany, Austria, Belgium, Holland, Omman, Kazakhistan, Portugal. In 2010, he released his first album Overseas where prominent musicians Kai Eckhardt on bass guitar, Sean Rickman on drums and Stanislav Mitrovic on saxophone accompanied Duyarlar. In second album released in 2011, Colors, Stanislav Mitrovic on saxophone, Eric Calmes on bass guitar and Enrique Firpi on drums accompanied him. His third, Kemenjazz, was recorded in 2012, whit collegues in Istanbul. In this album, Derya Turkan on kemence "3 stringed Turkish traditional instrument" Cem Aksel on drums, Erdal Akyol on Contrabass, Senova Ulker on trumpet Dilek Turkan and Azize on vocals accompanied Duyarlar. The album Kemenjazz was nominated in 2013 Turkey Music Awards among the best instrumental album category. He released his 4th album Time Of Spring in 2014, with Janek Gwizdala on bass guitar, Louie Palmer on drums and Justin Vasques on saxophone. Duyarlar continues his album and stage performances in Istanbul and gives concerts both in Turkey and abroad. In the meanwhile, as one of the founding members of Bahcesehir University Jazz School he gives the main courses of "Jazz Music Theory" and "Ensemble" He also conducts a big band, in educative base, called Istanbul Youth Jazz Orchestra.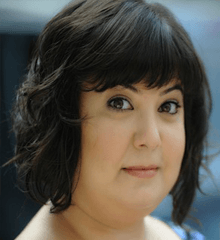 Başak Yavuz
Vocal, Songwriting, Ensemble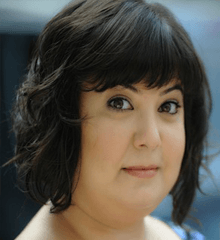 Başak Yavuz
Basak Yavuz is an Istanbul based vocalist, composer, arranger and educator. She started her career as an architect, but after winning the Nardis Jazz Vocal Competition in 2008 she decided to move to New York to study music. After a year of studying undergraduate level at the New School for Jazz and Contemporary Music, she went to the prestigious Manhattan School of Music where she earned a Master of Music degree in 2012. She has performed her own music in Turkey, the United States, Canada and Europe. Her debut album "things" is released from Kalan Records which features jazz legends such as Dave Liebman and Peter Eldridge, along with other respected musicians. Basak teaches jazz voice and ensemble at Bahcesehir University and songwriting at Bilgi University in Istanbul. She also hosts two radio shows at Acik Radio, "Dunyanin Cazi (World's Jazz)" and "Bi' sarkim var! (I have a song!)". Basak released her second album "a little red bug" from her new record label: things and records. She is a Grammy jury member since 2015.
Packed with creative stuff throughout."
Aydın Esen
"This is truly very original music."
Dave Liebman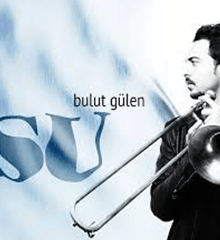 Bulut Gülen
Trombone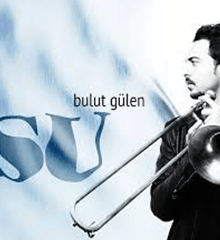 Bulut Gülen
Bulut Gulen was born on July 16th, 1980 in Eskisehir (Turkey). He began his musical education at the age of 10, in a children's choir. Soon after, he started taking piano and trombone lessons. In 1994, he was accepted in Ankara Conservatory, having has his principal instrument the trombone. He took private lessons with Bedii Durham and Aycan Teztel. In the year of 2003 he was accepted in Istanbul Conservatory, institution from which he graduated a year later. He was the trombone player for many classical orchestras in Turkey, and won numerous awards for his performance with the Istanbul Trombone Ensemble and the Ankara Trombone Trio.In2005, he toured with a very famous Turkish band"Athena" in Germany.And also played in International Istanbul Jazz Festival with Istanbul Superband featuring Dianna Rieves.In 2006,he played in International Akbank Jazz Festival and Alanya Jazz Festival,also in Istanbul he played and recorded with various bands and artists. 
In summer 2007, he was accepted to Berklee College of Music, wining the World Tour Scholarship. Soon after he developed his compositional skills, and perfection his performance talent. In January 2008, he won the Albert Natale Award, a recognition given for his outstanding performances. That summer, he played along with the Grammy Award winner McCoy Tyner, for the Berklee Jazz Orchestra at the prestigious Montreal Jazz Festival. He played as well with the Berklee Jazz Revelation Records Allstar at the Boston Symphony Hall. He is also played with Benny Golson and Steve Smith – members of the Berklee Concert Jazz, and he is also played with Jack Dejohannette members of the David Fiuczynski smallband. At Present, Bulut continues his studies on Contemporary Writing and Production and Profesional Music major,at Berklee College of Music with a full scholarship..His first arrangment and compose to the Turkish pop music Diva,Sezen Aksu was performed in Istanbul Symphony Orchestra in November 2009. His album "Su" released in 2015. Nowadays, he is teaching "jazz performance" at Bahcesehir University.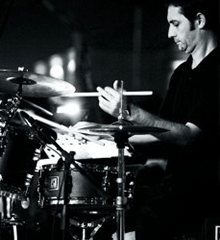 Cem Aksel
Drums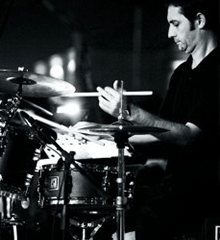 Cem Aksel
He was born in Ankara in 1963 and moved to Istanbul with his parents when he was 12. He started playing drums at high school and decided to become a professional player at the very early stage. He left from university education and enrolled in Swiss Jazz School for a year in 1983. After coming back to Turkey, he started playing with Bulent Ortacgil Band, of which he is still a member. At the same time he continued his jazz career with Emin Findikoglu and he has been playing with the best jazz musicians of Turkey, Europe and New York since then. He took part in numerous jazz concerts from trio to big bands with local as well as international musicians for the last three decades. He also performed in more than 100 music albums so far. Cem spends all his free time with recording music in his own home studio, teaching drum to individual learners and delivering workshops around the country.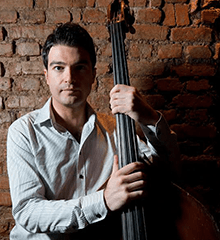 Kağan Yıldız
Doublebass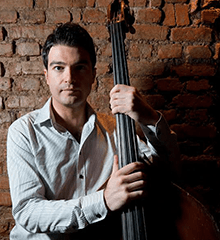 Kağan Yıldız
Kağan Yıldız was born in 1980, in Istanbul, Turkey. He started his music studies with his uncle, Orhan Akinci, who was a music teacher. In 1991, he got his admission in Mimar Sinan University State Conservatory, Double Bass Divison, where he continued his studies with Engin Babahan Ph.D. After his graduation in 2002, he continued his career playing jazz. In 2006, he became a member of the jazz band "Kerem Gorsev Trio". He played in the albums "Therapy" (which was recorded in London's Abbey Road Studios) and "Diversion". Until now, he performed with many great jazz artists, such as Imer Demirer, Kamil Ozler, Jacky Terrasson, Benny Golson, Harvey Weinapel, Sean Jones, Ricky Ford, Freddie Cole, Mark Murphy, Dave Samuels, Allain Mallet, John D'earth and Dena de Rose. Currently, he continues performing and touring with Kerem Gorsev Trio, while also appearing at other numerous important jazz events and festivals.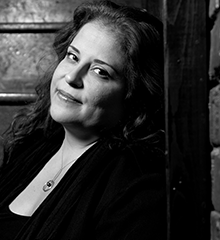 Sibel Köse
Sibel Köse vocal workshop, Ensemble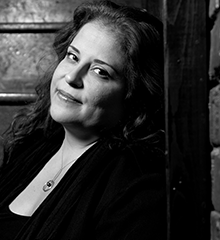 Sibel Köse
Raised in Ankara and mainly self taught, Sibel Köse has emerged as one of Turkey's top female jazz vocalists. Her rich deep tones resonating with her interpretations of jazz standards and her mastery at improvisation have earned her this reputation.  She built her experience and knowledge singing alongside major Jazz masters and further developed her craft participating in International Jazz Workshops, concerts, festivals and was awarded the first prize in the International Competition of Jazz Vocalists' in Zamosc (Poland) in 1992. Sibel Köse performs regularly in concerts, festivals, radio and TV programs, accompanied by veteran jazz musicians. She participates in several groups and projects as the lead voice and is featured by groups  organizations from trios to big bands including:  Istanbul Superband, Swiss Army Big Band, Polish-Turkish Jazz Connection, Jean Loup Longnon Big Band , Jean Pierre Gallis' Apopsis 7 within Turkey as well as abroad. In 2008, she participated in the International, Istanbul Jazz Festival "Sing the Truth" tribute to Nina Simone alongside Dee Dee Bridgewater, Stacey Kent and Raul Midon. So far she has performed at several venues in Poland, France, Holland, Greece, the Czech Republic, Germany, Estonia, Spain, Hungary, Kuwait, Bahrain, Dubai, Russia, Senegal, Morocco, South Africa, Finland and Kazakhstan. Sibel Köse is a regular participant in the major festivals within Turkey and Internationally.
Köse's talent and skill as a musician is matched only by her gift as a teacher and her dedication to Jazz music. Her "Jazz Vocal Workshops" in Istanbul are just part of her contribution to the growth and proliferation of Jazz music and education in Turkey.
Şenova Ülker
Trompet
Şenova Ülker
Şenova Ülker started his education in trumpet at the Ankara State Conservatory in 1969 and completed it upon his graduation with honors from Mimar Sinan Fine Arts University in 1979.  The same year, he auditioned for the Istanbul State Symphony and started to work as the first trumpetist. He currently holds the duty as the principal trumpetist. Ülker taught for 15 years at the Mimar Sinan Fine Arts University Conservatory and Istanbul University State Conservatory. He has also trianed many students through private lessons. Besides his western classical career, Şenova Ülker also a performer of jazz. He started his jazz performances in 1977 during his student years with a group called, "Jazz Juniors." Also during these years, he worked on jazz theory with Emin Fındıkoğlu. Ülker has performed in many concerts and jam-sessions with many renown jazz artists such as, Billy Hart, Buster Williams, Joe Henderson, Arto Tunç, Roy Hargrove, Sammy Figueroa, John Scofield, Bendik Hofseth, Dianne Reeves and Randy Brecker. Ülker has worked together with  Önder Focan in a jazz band for many years, and in the '90's, two albums came out of this project, titled "Early" and "Eight." In 1996, he formed the "Şenova Ülker Big Band;" conducted and performed with this orchestra for 1,5 years and   has helped with the training of many young jazz musicians. In 1998 he joined the band, "Passaporte Latino," had a chance to perform with Cuban musicians and to learn about the music from its real sources, and together they created the album, "Latin Türküler." In the upcoming years, his frequent performances with the group increased his interest in Latin music.In the year 2001, Ülker performed in Selen Gülün's album, "Just About Jazz." The concert that he performed in as a member of the group, "Hi-Jazz" was released as a CD in 2003. Ülker worked with Aşkın Arsunan in jazz groups that they created together, such as "0212" and "Ethno Karma." He performed as a soloist and also as a member of the brass group, "3Bones" in Arsunan's album, "One A Day"  in 2004. In the same year, Ülker performed as a soloist in Sadun Aksüt's "A Misty September Night;" Okan Ersan's "To Whom It May Concern" and Donovan Mixon's "The Dance of Life" albums. The next year, he played in Cengiz Baysal's "Candy and Milkshake." In 2007, he participated as a soloist and lead trumpetist in the album, "Istanbul Superband Plays Ömer Göksel" which was the first big band album in Turkey's jazz history. He also performed in Önder Focan's "Standard A La Turc" and "Swing A La Turc" albums in the same year.Ülker has participated in countless projects throughout his music career: Istanbul Superband, Bone3, Jazz Juniors, Şenova Ülker Big Band, CRR Big Band, Okan Ersan Band, Önder Focan Group/ Swing A La Turc/ Standard A La Turc/ Fobop, Emin Fındıkoğlu Detant and Euphony,  Pasaporte Latino, Beck's Big Band, Hi-Jazz, 0212 Pop and Latin Jazz Band, Aşkın Arsunan Ethno-Karma/ Blue Print Projects, Dzihan and Kamien, Group Passiflora, Donovan Mixon Group, La Pluma Latin Band, Selçuk Sun Quartet, Tuna Ötenel Quintet, Şenova Ülker Quartet, Baki Duyarlar/ Speak No Evil, Q-Bar Quartet, Jazz On Line and Levent Altındağ Brecker Bros. Project are among the main ones. Since the '70's, Ülker has recorded in countless albums and has performed and toured with many jazz groups. He continues to participate in studio recordings and an album project for the Bone3 Brass Section that he formed together with Aycan Teztel and Levent Altındağ. He also performs with "Istanbul Superband" –jazz music's national team- as the solo trumpetist and a founding member.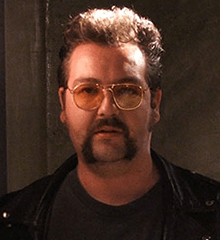 Şevket Akıncı
Guitar, Advanced Jazz Harmony, Jazz History and Styles Analysis.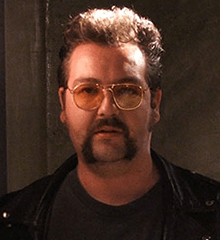 Şevket Akıncı
Şevket Akıncı is a guitarist, composer and an improviser. Throughout his musical career he participated in diverse projects varying from jazz to avantgarde, from punk to Turkish Classical Music. After graduating from Berklee College of Music, he published his first album in 1996. This album is a collection of folk compositions. And to this day it still has a cult status. Then he went on a totally different direction and led his jazz-rock group "Lifeline" which performed his own compositions for five years. This group published two albums. And then in 2005 he co-founded the audio-visual project "Mugwump" with Korhan Erel. The same year, he became a member of what would be the longest-standing free improvisation group in Turkey: "Islak Köpek". In 2010, he released a free jazz album called "Century". He's also a founding member of "Mutant", a 7-guitar group which plays compositions of its members. His album which he recorded with the famous guitarist Eugene Chadbourne and other leading Turkish musicians from the free scene in Istanbul, "Dead Country" is released from Konnex Records in June 2010.  Up to now he has produced and arranged for a number of artists. His most recent album is a solo concept album based on the works of the Dutch artist M.C Escher. Among  artists that he's played or recorded with we can name  Anthony Coleman, Dave Bryant, Tristan Honsinger, Ernst Reijseger, Huun-Huur-Tuu, Frode Haltli, Mike Cooper, Audrey Chen, Tim Hodgkinson, Walter Wierbos, Wilbert DeJoode, Josep Maria Balanya, Le-Quan Ninh, Luc Ex, Mark O'Leary, Eugene Chadbourne, Richard Nunns, Kirstie Simson, Christian Asplund, Sussan Deyhim, Richard Horowitz, Ilia Belorukov. He has been a radio host since 2006 in a radio program on free jazz and free improvisation. He also composes for films, dance and theater and is a published poet.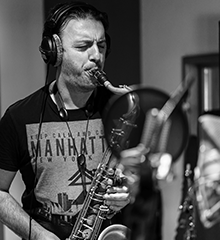 Tamer Temel
Saxophone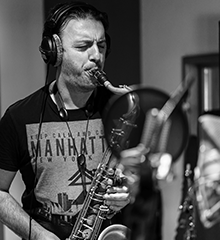 Tamer Temel
Born in İstanbul and grew up in İzmir. He worked with Dave Allen (guitar), Masa Kamaguchi (bass) and Marc Miralta on his debut album Barcelona, released in 2010 by A.K. Music.  He has been participating in numerous festivals, recordings and performing at important venue as he continues to teach jazz courses at Bahçeşehir University, Istanbul.  Tamer Temel Quintet released another studio album with A.K. Music label called "Bir Kedi Kara" he played this project in many festivals like İstanbul Jazz festivals, Ak bank Jazz Festival and many others.  His latest album "Serbest Düşüş" released on November 2016 by A.K. Music. He is still teaching jazz and improvising at Bahçeşehir University. His latest project "trio" with Ercüment Orkut and Cem Aksel will be released in fall 2017.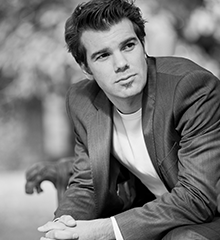 Uraz Kıvaner
Piano. Sibel Köse vocal workshop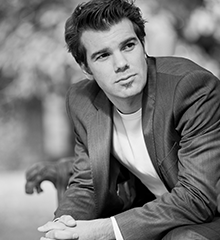 Uraz Kıvaner
Uraz Kıvaner was born in Ankara 1979. Studied Viola and Piano in high school then got the full scholarship for Istanbul Bilgi University Jazz Piano Program. Graduated in 2003 with a high degree and moved to Poland and started his career .During his life abroad he worked in US as well with Bill Barron Jazz Quintet for 2 years then moved back to Turkey in 2008. During his career he had performed in a huge quantity of festivals throughout the world and local venues together with very valuable local and foreign artists as well as bands such as Wallace Rooney Quintet ,Lew Tabackin, Monty Waters, Rusty Jones, Scott Steed, Reggie Jackson, Tony Jones, Bill Barron, Victor Campbell, Tuna Otenel, Imer Demirer, Ozan Musluoğlu Quartet, Ferit Odman Quintet, Janusz Muniak, Zbigniew Namyslowski, Andrzej Dobrowski, Janusz Kozlowski, and vocalists Sibel Kose, Agnieszka Skrzypek, Agnieszka Wilczynska, Nükhet Ruacan, Janusz Szrom, Andrzej Dobrowski, Miles Griffith, Fatih Erkoç ,Ayşe Gencer, Ayten Alpman, Elif Çağlar, Deborah Davis, Laika Fatien, Manu La Prince ,Joy Voeth, Ilhem Khodja, Karrin Allyson ,Kathy Kosins and etc… He has released his first album in 2012 March.  He had been invited to Budapest Jazz Showcase 2014 and had performed with his band. And in 2015 he's been invited to perform with legendary musicians in New York as the "Made in NewYork Jazz Competition" Solo Instrumental Category Winner. Nowadays he keeps doing what he loves the most and has been playing the music he loves with the people he values the most, creating new projects and trying to help others to achieve their desired musical skills by Teaching at the Bahçeşehir University Jazz Programme since 2013